We have the best selection of custom logo bar stools.  Our logo bar stools are commercial quality and proudly manufactured in the USA.  All of our bar stools swivel and can be assembled at the factory if desired.  We do this at no charge.  We can Pantone match your corporate colors and even print four color process at 720 dpi.  All of our printing in done on the underside of the material so you never have to worry about the logo scratching off.  Whether you are looking for 2 or 200 custom logo bar stools, you can never go wrong purchasing them from barstoolsandchairs.com.  Barstoolsandchairs.com is the place to go for custom logo bar stools.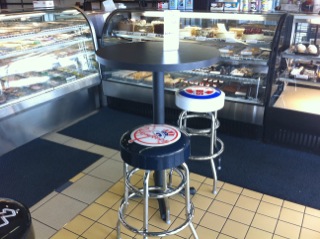 I was at Max & Benny's yesterday with my family and noticed they had moved some furniture around for the holidays. There right in the front of the store they had about 6 of our professional sports teams bar stools. Attached is a picture of 2 of the bar stools. I took another picture of the stools that did't come out too well.  YOu can buy sports logo bar stools at www.barstoolsandchairs.com. 
Advertise your brand and the point of purchase with a custom logo stool.  Our logo bar stools are made in the USA and built to last for years at parts counters and service counters.  Our logo stools are built with top quality commercial components so they will represent you well at the counter for years to come.  Our bar stools are all swivel bar stools.  Swivels lessen wear and tear on the bar stool seat resulting in your bar stools lasting even longer.  We can Pantone match any corporate color for both the seat color and colors used in your logo.  The material used to upholster the bar stools is commercial grade 12 mil vinyl.  The frames used are 18 gauge chrome plated steel.  If you are looking to have your parts counter fitted with some custom swivel bar stools, be sure to check out www.barstoolsandchairs.com.