You have been coming to logo-barstools.com for years to learn about custom logo bar stools. Finally, we are able to offer custom logo tables to go with the logo stools. We can do any logo, any color, and practically any size. We can do metal edging, black edging, and even self edging. Shown in the picture is our high boy base with a 30 inch round table top. We can do this in different heights and with different bar stools. The combinations are endless. If you bought some stools from us in the past, it is time to add a beautiful American made custom logo table top to your restaurant, hotel, counter, or home.
We have the best selection of custom logo bar stools.  Our logo bar stools are commercial quality and proudly manufactured in the USA.  All of our bar stools swivel and can be assembled at the factory if desired.  We do this at no charge.  We can Pantone match your corporate colors and even print four color process at 720 dpi.  All of our printing in done on the underside of the material so you never have to worry about the logo scratching off.  Whether you are looking for 2 or 200 custom logo bar stools, you can never go wrong purchasing them from barstoolsandchairs.com.  Barstoolsandchairs.com is the place to go for custom logo bar stools.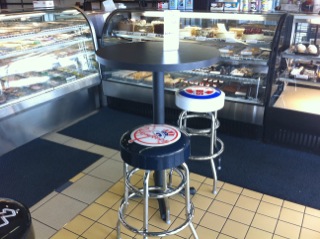 I was at Max & Benny's yesterday with my family and noticed they had moved some furniture around for the holidays. There right in the front of the store they had about 6 of our professional sports teams bar stools. Attached is a picture of 2 of the bar stools. I took another picture of the stools that did't come out too well.  YOu can buy sports logo bar stools at www.barstoolsandchairs.com. 
Advertise your brand and the point of purchase with a custom logo stool.  Our logo bar stools are made in the USA and built to last for years at parts counters and service counters.  Our logo stools are built with top quality commercial components so they will represent you well at the counter for years to come.  Our bar stools are all swivel bar stools.  Swivels lessen wear and tear on the bar stool seat resulting in your bar stools lasting even longer.  We can Pantone match any corporate color for both the seat color and colors used in your logo.  The material used to upholster the bar stools is commercial grade 12 mil vinyl.  The frames used are 18 gauge chrome plated steel.  If you are looking to have your parts counter fitted with some custom swivel bar stools, be sure to check out www.barstoolsandchairs.com.
When shipping a skid of disassembled logo bar stools, we always request our supplier to palletize wrap our skids.  Since they purchased a new semi automatic pallet wrapping machine, our shipments have come through with almost no damage.  We still floor load most assembled orders but when shipping logo bar stools knocked down, it definitely helps to palletize.  Otherwise, you would have to hand unload each box one at a time.  The bar stools we sell are manufactured in the USA and built for commercial use at a parts counter.
One great way to keep people in your trade show booth, is to give them a seat.  With a custom logo trade show bar stool, you can give your prospects and customers a seat while advertising your brand, product, and company throughout your booth.  Logo bar stools get noticed.  Even a 10×10 booth or a table top trade show can use a couple of custom bar stools with your logo.  When you consider what it costs to rent some chairs or bar stools for a three day show, it makes sense to buy your own.  I bet it is cheaper to buy a couple of custom trade show bar stools than it is to rent for just one show.  What if you have 10 shows a year?  The best logo trade show bar stools are available at BarStoolsandChairs.com.
At BarStoolsandChairs.com, we distribute logo bar stools manufactured by Richardson Seating.  Through the end of the year, Richardson Seating is running a special to its dealers for custom logo bar stools.  We are passing the savings along to our customers.  This is the ideal time to get a couple of custom logo bar stools for your parts counter or sales counter.  We can print your company name, product image, or even vacation picture.  We can put pretty much anything on a bar stool.  All logo bar stool printing is done on the underside of clear vinyl so that your image will never scratch off.  The logo bar stools that we sell are made in the USA and come with a one year warranty.  If interested in a quote, email matt@barstoolsandchairs.com.
All of the logo bar stools sold at BarStoolsandChairs.com are swivel bar stools.  Swivels are very important to preserving the life of a custom logo bar stool.  When people are at the parts counter sitting on logo bar stool, their natural tendency is to move around it their seat.  If the bar stool does not have a swivel, their movement will pull at the upholstery.  This may not be a big deal if the bar stool doesn't get used, but after months of movement, the vinyl will start to pull at the staples and could rip.  If you buy a logo bar stool that is a swivel bar stool, you don't have to worry about this premature degradation of the upholstery.  Swivel bar stools are definitely the way to go.